Vessel
The 132-foot by 33-foot by 8-foot vessel was built under United States Coast Guard supervision, and is certified to carry 210 passengers and 44 tons of vehicles and freight (3 trucks and 17 cars).
In Service
The Munnatawket is in service year-round, except during scheduled annual maintenance.
History
The Munnatawket's name was chosen by Islanders since it is the Native American name for Fishers Island. Commissioned by the Fishers Island Ferry District, the Munnatawket was designed and built by Blount Marine in Warren, RI and was launched in March of 1978. A crowd celebrated her arrival in Silver Eel Cove on April 22, 1978. She was christened by Mrs. Larry Baldwin.
In 2019 the Munnatawket underwent a partial re-powering replacing two 1977 330HP Detroit Diesel engines with two Cummins QSL11 340HP engines. This has resulted in cleaner burning and a more fuel efficient Munnatawket.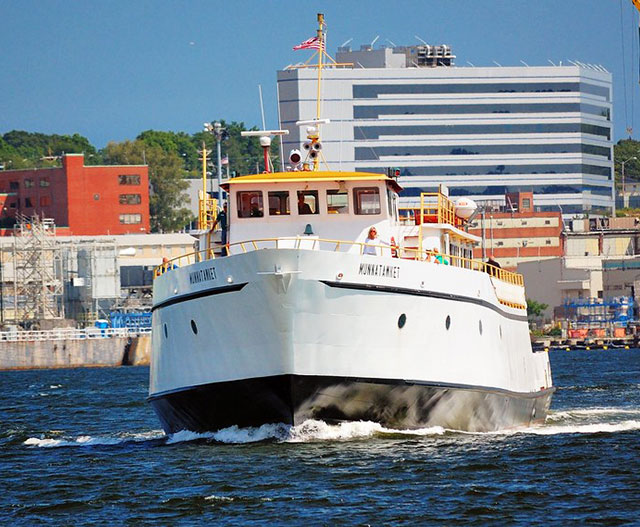 | | |
| --- | --- |
| Length | 132′ |
| Beam | 30′ |
| Draft | 7′ |
| Speed | 10 KTS. |
| Passengers | 209 |
| Vehicles | 24 |
| Crew | 3-4 |
| Built | 1977 |
Photos courtesy of Jane Ahrens, B Bloethe and Pierce Rafferty